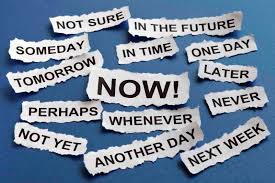 One of the greatest challenges for managers is having the time to manage. Everyone is busy. Managers are consistently being asked to do more with less. So what can you do to manage your time most efficiently? Here are a few tips to help save time and reduce stress!
Change your to-do list into a real time management plan:
Do you actually plan your days out? I know, what's the use in planning, there's always a fire to put out? There just aren't enough hours in the day to get everything done anyway. Stop making excuses. You are right, you can't add more hours to your day, and emergencies will come up, but having a real plan, allowing for time to put out fires will help. Start by listing everything you have to do and then prioritize your list to the things that absolutely must get done tomorrow. Then order them in a way that makes sense for you and the task. So if you work best in the morning, do the tough stuff first. If you are preparing for a 3PM meeting, clearly the prep time must be scheduled for before.   Figure out how much time you will need and make sure you schedule it well in advance. And I mean schedule it! Block out time on your calendar to prep for the meeting. We all put our meetings on our calendars, but how many of you block out time to prep? Prep time should not be scheduled for 5 minutes before the meeting.   As we know, emergencies do come up, but if you have scheduled your prep time well in advance, you will have time to attend to the emergency, and still be able to get back in time to prep before the meeting. I'm a big believer in Outlook or some type of electronic calendar. I've got reminders going off for everything, so nothing falls through the cracks. And I don't dismiss something until it is complete. If I can't do it right then, I'm committed to going back to my calendar and finding a place to reschedule it.
Minimize your "time robbers":
Speaking of those emergencies and fires you have to put out…….stop thinking they are all unavoidable. Probably only about 1/3 of them are true emergencies. The others are what I call time robbers; the interruptions that come in many forms. They could be your staff that feel they can interrupt you anytime they have a question. They could be meetings that you really don't need to be at. They could be time you spent looking for things because you are not as organized as you can be. And the list goes on. First identify your time robbers. Then think about ways to at least minimize them. Learn key phrases that encourage people to respect your time such as:
"Can you give me 30 minutes to finish up what I'm doing and then I'll give you 100% of my attention."
"How much time do you think we need to discuss this?"
"Can we agree to meet until 3PM and then schedule more time at a later date if we're not done?"
All these phrases let people know, I want to help you, but I have other pressing things I need to take care of. If you respect your time, others will start to as well. For those real emergencies you have to attend to right away, start looking for patterns. Do the same things keep coming up day after day? Is there someone who can be a resource for these issues other than you? Is there a systemic problem that, if addressed, could decrease these types of emergencies from coming up?
Learn to delegate effectively:
Managers often forget one of the most effective time management tools – delegation. There are many reasons people don't delegate, but many times it is because they are not successful (or are afraid they won't be successful,) when they do it. Nine times out of ten, they fail because they did not delegate the task to the right person, or they did not give the person the support they needed to be successful. The first step it to change our mindset about delegation. It should not be you dumping your work on someone else. That's not delegation. You should think of it as an opportunity for that person to learn something new, and to take something off your plate to leave you time to do other things your staff cannot do. Things that help move the department forward. Delegation should be a win / win and needs to be presented that way. People want to know what's in it for them, so be prepared to tell them. Of course, you also need to be confident that the task will get done. Just because you delegated it, does not mean it is NOT your responsibility anymore. When you are a manager, the buck stops here. So take time to analyze the task and your staff competencies. Then determine, based on how much experience the person has with this task, the level of involvement you need to have with them. Remember the more time you put in in the beginning, the faster that task will truly be off your plate with minimum supervision needed. If you're having trouble trying to think about the types of tasks to delegate, try some of these:
Clerical Tasks
Repetitive Tasks
Information Gathering
Representation in Meetings
They are the easiest types of tasks to delegate and can save you a good amount of time and stress in the long run.
E-Mail me to include your management challenges in our upcoming blogs – abbe@tecresourcecenter.com